Technical data
Model
Cavity Size
Max Feeding Size(mm)
Adjusting Range of Output Size(mm)
Capacity(t/h)
Motor Power (KW)
Weight (t)
Overall Dimension(mm)
ZTS36B
Fine
85
9~22
45~91
75
14.5
2656×1746×2410
Coarse
150
13-38
59~163
Extra Coarse
152
25-38
118~163
ZTS36D
Fine
35
3~13
27~90
15
Medium
65
5~16
36~100
Coarse
85
6~19
59~129
ZTS51B
Fine
115
13~31
109~181
160
26.5
2958×2354×3156
Medium
178
16~38
132~253
Coarse
205
19~51
172~349
Extra Coarse
220
25~51
236~358
ZTS51D
Fine
54
3~16
36~163
27
Medium
76
6~16
82~163
Coarse
89
8~25
109~227
Extra Coarse
113
16~25
209~236
ZTS66B
Fine
178
16~38
181~327
220
51
3941×2954×3771
Medium
205
22~51
258~417
Coarse
228
25~64
299~635
Extra Coarse
313
38~64
431~645
ZTS66D
Fine
60
5~13
90~209
52
Medium
76
6~19
136~281
Coarse
113
10~25
190~336
Extra Coarse
125
13~25
253~336
ZTS84B
Fine
236
19~38
381~726
315
90
4613×3251×4732
Medium
284
25~51
608~998
Coarse
314
31~64
789~1270
Extra Coarse
391
38~64
880~1361
ZTS84D
Fine
89
5~16
190~408
92
Medium
113
10~19
354~508
Coarse
151
13~25
454~599
Extra Coarse
172
16~25
508~653
Note: The capacity above is tested as per medium hard limestone.
Any change of ZTS Cone Crusher technical data shall not be advised additionally.
Features
● Customers can choose suitable crushing chamber of each model according to the material feature, fineness of the end product and particle size requirement.
● Unique dustproof and sealing structure extend working life of lubricants and other spare parts
● The key parts are made of special materials to make the strong crushing force possible,
● Equipped with long crushing arm to ensure huge stroke, strong crushing force, and high capacity.
● Hydraulic cleaning system keeps the cavity clean, and it's easy to operate, thus reducing the stoppage of machines.
● Reliable performance, low investment, and long service life of quick-wear parts.
Application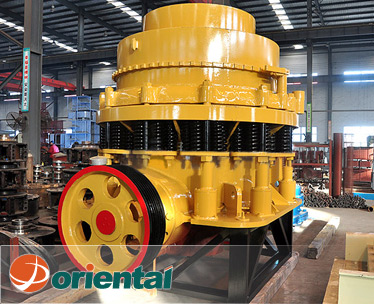 Inquiry Oriental: