Technical data
Model
Chamber Size
Max Feeding Sizes(mm)
Adjusting Range of Output Size(mm)
Capacity(t/h)
Motor Power (kw)
Weight (t)
Overall Dimension(mm)
HCC-75B
Fine
85
9~22
46~94
75
10
2656×1746×2241
Coarse
150
13-38
61~168
Extra Coarse
152
25-38
122~168
HCC-75D
Fine
35
3~13
28~93
10.5
Medium
65
5~16
37~103
Coarse
85
6~19
61~133
HCC-160B
Fine
115
13~31
112~189
160
22.5
2983×2354×3156
Medium
178
16~38
136~261
Coarse
205
19~51
177~359
Extra Coarse
220
25~51
243~369
HCC-160D
Fine
54
3~16
37~168
22.6
Medium
76
6~16
84~168
Coarse
89
8~25
112~234
Extra Coarse
113
16~25
215~243
HCC-220B
Fine
178
16~38
186~337
220
43.3
3911×2870×3771
Medium
205
22~51
266~430
Coarse
228
25~64
308~654
Extra Coarse
313
38~64
444~664
HCC-220D
Fine
60
5~13
93~215
43.9
Medium
76
6~19
140~289
Coarse
113
10~25
196~346
Extra Coarse
125
13~25
261~346
HCC-315B
Fine
236
19~38
392~748
315
86.7
4613×3302×4638
Medium
284
25~51
626~1028
Coarse
314
31~64
813~1308
Extra Coarse
391
38~64
906~1402
HCC-315D
Fine
89
5~16
196~420
89.5
Medium
113
10~19
365~523
Coarse
151
13~25
468~617
Extra Coarse
172
16~25
523~673
Note: The capacity above is tested as per medium hard limestone.
Any change of HCC Cone Crusher technical data shall not be advised additionally.
Features
● HCC Hydraulic Cone Crusher is equipped with a hydraulic protecting system including protecting oilcan, locking oilcan and hydraulic driving oilcan, which deal with all kinds of problems during the operation without disassembling the machine;
● It is easy in operation, reliable in performance and adjustable in the size of the end products;
● The crushing cavity is specially designed according to the inter-particle laminating principle. The specially-designed cavity and the adjustable rotating speed improve the crushing ratio and capacity as well as the percentage of cubically shaped products;
● If something abnormal happens, for instance, the iron is fed into the crushing cavity, or there is a jam in the cavity, the upper cover will be lift up and the materials will be discharged automatically, thus obviating the stoppage of machines to discharge the materials with human help. And it's also easy to maintain, and the cost is much lower than PY Spring Cone Crusher;
● Its reliable performance is guaranteed by the hydraulic adjusting system and dilute oil lubricating system. The labyrinth-like sealing system eliminates the mixture between water and oil in the traditional PY Spring Cone Crusher;
● The mantle and bowl liner are made of high manganese steel. The special design of crushing cavity and inter-particle laminating principle reduce the abrasion of spare parts, thus the service time 30%-80% longer than that of traditional cone crushers.
Application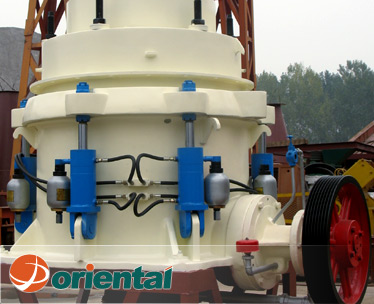 Inquiry Oriental: