Technical data
| | | | | | | | | |
| --- | --- | --- | --- | --- | --- | --- | --- | --- |
| Model | Screen Cloth Size(mm) | Screen Decks | Screen Opening Size | Max.Feeding Size(mm) | Capacity(t/h) | Motor Power(kw) | Weight(t) | Overall Dimension(mm) |
| 2YZS1237 | 3700×1200 | 2 | 3-50 | 200 | 10-80 | 11 | 2.40 | 4773×2050×2247 |
| 3YZS1237 | 3700×1200 | 3 | 3-50 | 200 | 10-80 | 11 | 3.05 | 4773×2050×2700 |
| 2YZS1548 | 4800×1500 | 2 | 3-100 | 400 | 30-200 | 15 | 5.35 | 5900×2270×1620 |
| 3YZS1548 | 4800×1500 | 3 | 3-100 | 400 | 30-200 | 15 | 6.07 | 5900×2270×1670 |
| 2YZS1848 | 4800×1800 | 2 | 3-100 | 400 | 50-280 | 18.5 | 6.15 | 5900×2560×1620 |
| 3YZS1848 | 4800×1800 | 3 | 3-100 | 400 | 50-280 | 18.5 | 6.93 | 5900×2560×1670 |
| 2YZS1860 | 6000×1800 | 2 | 3-100 | 400 | 65-550 | 22 | 6.95 | 7060×2560×1620 |
| 3YZS1860 | 6000×1800 | 3 | 3-100 | 400 | 65-550 | 22 | 7.70 | 7060×2560×1670 |
| 4YZS1860 | 6000×1800 | 4 | 3-100 | 400 | 65-550 | 30 | 8.70 | 7060×2560×1930 |
| 2YZS2160 | 6000×2100 | 2 | 3-100 | 400 | 81-720 | 22 | 8.48 | 7130×2990×1760 |
| 3YZS2160 | 6000×2100 | 3 | 3-100 | 400 | 81-720 | 30 | 9.24 | 7130×2990×1810 |
| 4YZS2160 | 6000×2100 | 4 | 3-100 | 400 | 81-720 | 30 | 10.45 | 7130×2990×1930 |
| 2YZS2460 | 6000×2400 | 2 | 3-150 | 400 | 100-810 | 30 | 12.35 | 7130×4121×1810 |
| 3YZS2460 | 6000×2400 | 3 | 3-150 | 400 | 100-810 | 37 | 13.85 | 7130×4121×1940 |
| 4YZS2460 | 6000×2400 | 4 | 3-150 | 400 | 100-810 | 37 | 15.60 | 7130×4121×2080 |
Note: Any change of Vibrating Screen technical data shall not be advised additionally.
Features
● Stable performance under violent vibrating, for the fixing bolts are widely applied to connecting the main frame and the screen tightly.
● Large handling capacity, which can reach 810 ton per hour.
● Long flow line and various screening specifications.
● Small amplitude, high frequency, large-inclination structure, high efficiency, large capacity, long service life, low power consumption and noise.
Application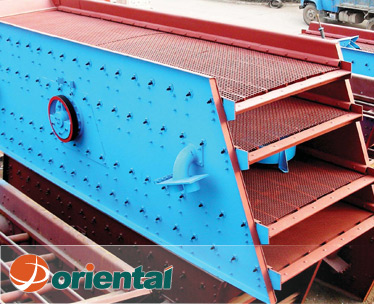 Inquiry Oriental: