Technical data
Model
Spiral Dia(mm)
Rotary speed (r/min)
Tank Length (mm )
Motor kw
Dimenstion
Weight
Drive
Adust
LxWxH (mm)
(T)
HC-3
300
12-30
3000
1.1
----
3850
490
1140
0.7
HC-5
500
8-12.5
4500
1.1
----
5430
680
1480
1.6
HC-7
750
6-10
5500
3
----
6270
980
1820
2.7
HC-10
1000
5-8
6500
5.5
----
7590
1240
2380
4.0
LC-10
8400
7.5
9600
1240
2680
6.0
HC-12
1200
4-6
6500
7.5
2.2
8180
1570
3110
8.5
LC-12
8400
7.5
2.2
10370
1540
3920
11
2HC-12
6500
15
4.4
8230
2790
3110
15.8
2LC-12
8400
15
4.4
10370
2790
3920
17.6
HC-15
1500
4-6
8300
7.5
2.2
10410
1880
4080
12.5
LC-15
10500
7.5
2.2
12670
1820
4890
16.8
2HC-15
8300
15
4.4
10410
3390
4080
22.1
2LC-15
10500
15
4.4
12670
3370
4890
30.7
HC-20
2000
3.6-5.5
8400
11-15
3
10790
2530
4490
20.5
LC-20
12900
11-15
3
15610
2530
5340
28.5
2HC-20
8400
22-30
6
11000
4600
4490
35.5
2LC-20
12900
22-30
6
15760
4600
5640
48.7
HC-24
2400
3.67
9130
15
3
11650
2910
4970
25.7
LC-24
14130
18.5
4
16580
2930
7190
41.0
2HC-24
9130
30
6
12710
5430
5690
45.8
2LC-24
14130
37
8
17710
5430
8000
67.9
2HC-30
3000
3.2
12500
40
8
16020
6640
6350
73
2LC-30
14300
17091
8680
84.8
Note: Any change of Spiral Classifier technical data shall not be advised additionally.
Features
1. Low power consumption;
2. Heavy duty, long workinglife;
3. Powerful self-contained spiral lifting device;
4. Continuous spiral raking;
5. High classifying efficiency;
6. Wide choice of weir height;
7. Rigid tank and substructure;
8. Wide choice of tank design;
9. Wide range of industries serviced.
Application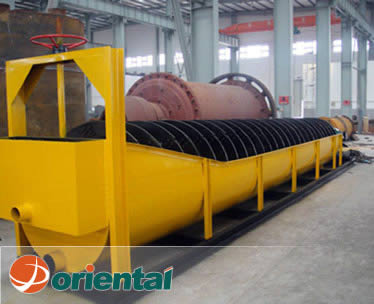 Inquiry Oriental: