Technical data
Model
Max.Feeding Size(mm)
Power(kw)
Capacity(t/h)
Close Discharge Size(mm)
Weight(t)
50
70
80
100
125
150
200
225
250
300
VPE400×600
600×400
30-40
26
38
45
60
75
 
 
 
 
 
6.32
VPE500×750
750×500
45-60
40
60
70
90
112
130
 
 
 
 
8.75
VPE600×900
900×600
60-75
 
 
105
130
160
182
 
 
 
 
14
VPE750×1050
1050×750
90-115
 
 
 
180
210
237
294
 
 
 
22.5
VPE800×1200
800×1200
115-150
210
250
280
320
350
26.65
VPE1000×1200
1200×1000
130-150
 
 
 
 
265
302
370
402
 
 
44.5
VPE800×1350
800×1350
135-150
250
300
340
420
450
27.77
VPE1000×1500
1500×1000
185-225
 
 
 
 
310
350
440
480
510
 
50.38
VPE1200×1500
1500×1200
185-265
 
 
 
 
 
415
500
540
580
630
78
Note: The capacity above is tested as per medium hard limestone.
Any change of V-Series Hydraulic Jaw Crusher technical data shall not be advised additionally.
Features
● Unique heavy-duty design, superior steel plate welded by CO2 gas shielded welding and annealed to be durable;
● Alloy eccentric shaft, forged and lathed to be superior in bearing capacity;
● High-quality shaft and oil lubricating to ensure the long service life, smooth running and simple maintenance;
● Deep crushing cavity and optimized rotating speed well coupled to the angle between fixed and movable jaw plate to ensure the high capacity;
● Non-lubricant toggle plate to protect the machine from being overloaded;
● Hydraulically adjustable discharging outlet, simple to operate and maintain, thus achieving the high capacity.
Application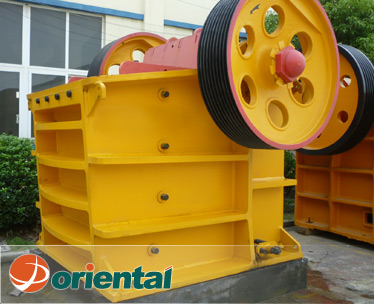 Inquiry Oriental: