Technical data
Model
Cavity Size (Coarse/Fine)
Minimum Discharging Size(mm)
Max Feeding Size(mm)
Capacity(t/h)
Weight(t)
Power(kw)
HP-160
C
13
150
120-240
13
160
F
6
76
55-180
HP-220
C
13
225
150-430
18
220
F
6
86
90-260
HP-315
C
13
290
190-610
26
315
F
6
100
108-320
HP-400
C
16
320
230-700
33
400
F
8
110
145-430
Note: The capacity above is tested as per medium hard limestone.
Any change of HP Cone Crusher technical data shall not be advised additionally.
Features
● Unique hydraulic protecting system, including protecting oilcan, locking oilcan and hydraulic driving oilcan, which can not only protect the machine, but also deal with operational troubles without disassembling the whole machine.
● Easy to operate, reliable performance and adjustable in terms of size of the end products.
● The crushing chamber is specially designed according to particles-layer- pressure principle. The special chamber and the suitable rotating speed improve the crushing ratio and capacity, and also the percentage of cubic products.
● If something abnormal happens, for instance, the iron is fed into the crushing chamber or there is a jam in the chamber, the up-cover of the machines will be lift up and the materials will be discharged automatically, thus eliminating the chance of machine stoppage to discharge the material by workers. Besides, it's easy to maintain, and the cost is much lower than PY Spring Cone Crusher.
● Unique hydraulic device and diluted oil lubricating system ensures the reliable performance of the equipment. The labyrinth-like sealing obviates the mixture of water and oil, which is hard to avoid in the traditional PY Spring Cone Crusher.
● The mantle and bowl liner are made of high-manganese steel. The special design of crushing chamber and particles-layer- pressure protection device reduce the abrasion, extending the service life of spare parts by 30%-80%.
Application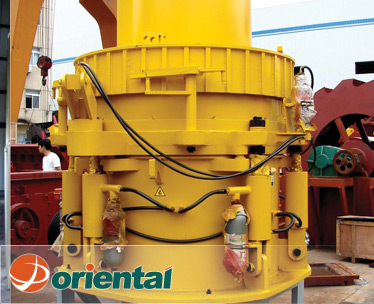 Inquiry Oriental: