Technical data
Model
Belt Width(mm)
Nominal Power(kw)
Conveyor Speed(m/s)
Capacity (t/h)
B400
400
<12m=2.2
0.8-2.0
40-80
12m-19m=3
20m-25m=4
B500
500
<12m=4
0.8-2.0
78-191
12m-19m=5.5
20m-30m=7.5
B650
650
<12m=4
0.8-2.0
131-323
12m-19m=5.5
20m-30m=7.5
B800
800
<10m=5.5
1.0-2.0
278-546
10m-15m=7.5
16m-20m=11
21m-25m=15
26m-30m=18.5
B1000
1000
<10m=7.7
1.0-2.0
435-853
10m-15m=11
16m-23m=15
24m-30m=22
B1200
1200
<10m=11
1.0-2.0
650-1020
10m-17m=15
18m-22m=18.5
23m-26m=22
27m-30m=30
B1400
1400
<10m=15
1.0-2.0
821-1232
10m-15m=18.5
15m-18m=22
19m-23m=30
24m-27m=37
28m-30m=45
Note: Any change of Belt Conveyor technical data shall not be advised additionally.
Features
● The belt conveyors made of SJLC(heat and cold resisted material) can be operated in the temperature situation ranging from -20℃ to +40℃. The temperature of transferred material by this belt conveyor should be lower than 50℃.
● Simple in structure, easy to maintain, long service life, high transfer capacity.
Application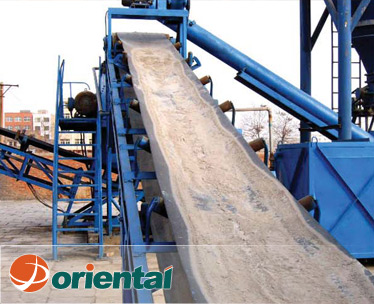 Inquiry Oriental: